In 2019, Disney will release not one, not two, but three live-action adaptations of their animated classics, namely Aladdin, Dumbo and The Lion King. This alone should be testament to how packed 2019 is going to be with films I can't wait to catch in cinemas. Needless to say, this list was rather difficult to make given the sheer number of potentially amazing films on the calendar, but here are my eleven most anticipated films of 2019.  
11. Where'd You Go, Bernadette?
(credit: mariasemple.com)
This film was originally slated for release May this year, but is now slated for a March 2019 release. I loved Richard Linklater's Boyhood, and here, he works with an amazing cast including Cate Blanchett as the titular character, Kristen Wiig and Judy Greer. I think this could be a funny and quirky film, with an interesting plot to boot where the audience is left guessing. I generally enjoy Wiig and Blanchett in anything they do, so I'm definitely looking forward to this film.
10. Aladdin
(credit: Disney)
So far, we've only been treated to a short teaser trailer, showcasing the titular character and the lamp. But to me, Disney rarely goes wrong with their live-action adaptation of animated classics (Beauty and the Beast, Cinderella), and Aladdin certainly has the potential for some amazing scenes. I think a lot will come down to the chemistry and interaction between the genie (played by Will Smith) and Aladdin (played by newcomer Mena Massoud).
Aladdin is directly by Guy Ritchie, which for me is certainly not a plus point, as to me he's had far from the best track record; I didn't really enjoy any of his previous films. Nevertheless, I'm banking on Disney working their magic and bringing us a visually dazzling film, hopefully with an emotional core.
9. Captain Marvel
(credit: Marvel Studios)
After the ultimately disappointing Avengers: Infinity War, my enthusiasm for the fourth Avengers film has certainly dimmed, and I find myself looking forward more to the new entry into the MCU, Captain Marvel. After the explosive success of Black Panther this year, I'm sure MCU chiefs will hope to position this film has Marvel's next cultural phenomenon. From the trailer it's clear they are pushing the fact that she's the first female superhero with a standalone film.
I've generally found these introductory Marvel films to be the best ones, and from the trailer, Captain Marvel looks pretty good. Her powers do seems slightly dull; shooting an underwhelming energy beam from her fists, but I'm sure there's a lot we're not seeing.
I thought Brie Larson was magnificent in Room, but from the trailers, her face looks rather blank, and I hope her performance doesn't disappoint here. The supporting cast looks great though; Gemma Chan and Jude Law are definite draws for me.
If the second trailer had not been somewhat underwhelming, this would have been way higher on my list.
8. Godzilla: King of Monsters
(credit: Legendary and Warner Bros. Pictures)
A large part of my anticipation for this film roots from the comic-con trailer, which I thought was fantastic. I really enjoyed the dark aura that permeated the first film, and the way they played with scale to bring out the sheer size of the titular monster and its foes, making for some extremely epic scenes. I also liked the way they weaved the narrative together through the eyes of seemingly insignificant human beings in the face of these monsters. It appears, based on the trailer, that the second film will reflect a similar promise, with a similar overhang of darkness, an emphasis on sheer size and a reliance on the perspective of seeming human collaterals.
The introduction of multiple new monsters within the Godzilla canon is also reason for excitement, as this points to action scenes of an even larger scale, whereby Godzilla has more friends and foes to accompany him (it?) onscreen.
I'm rather neutral about Millie Bobbie Brown being the human protagonist of the movie; I think she seems to be playing Eleven from Stranger Things, and I think the emphasis will be on the monsters anyway (or at least it should be)
7. Downton Abbey
(credit: ITV)
The Downton Abbey TV series was one of my favourite series ever, so needless to say, I'm extremely excited for this film, no less because it continues on from the series conclusion, giving us a look into the future of the characters.
I'm also particularly glad that most of the main cast is returning; Hugh Bonneville, Elizabeth McGovern, Laura Carmichael, Michelle Dockery and of course, Maggie Smith! After dominating the Emmys with her performance as the Dowager for a number of years, I wonder if her film performance will translate into an Oscar nod?
The new cast members also add promise to the film; I loved Imelda Staunton in films such as Finding Your Feet and Pride, though I wonder if she'll bring back an Umbridge-like character from the Harry Potter universe. After all, the drama and scandal, albeit more slow-burning than one we'd see Umbridge in, is part of what makes the series so interesting. I wonder if we'll see a McGonagall-Umbridge like standoff that we saw in Harry Potter and the Order of the Phoenix, that'd be amazing. Also, the inclusion of Geraldine James, who I loved in Anne with an E, could bring the movie some real heart depending on her role.
Overall, I'm really excited for this film, and if it's as good as the TV series, it'll likely be one of my favourite films of the year.
6. The Lion King
(credit: Disney)
I don't think there's much I need to say about this; it's The Lion King! Directed by Jon Favreau no less, who I thought brought The Jungle Book beautifully to life. The only problem I have with this, after the release of the first trailer, is the lack of discernible emotions on the animal's faces, which I felt was key in giving the animated classic both its emotional and comedic punch.
I think the cast is great though; with largely comedic actors in key roles, I expect the comedic moments of the film to hit, while I hope it retains the emotional core of the original.
5. Us
(credit: Blumhouse Productions)
Get Out was one of the most interesting films I'd seen in recent years, and was a film I greatly enjoyed analysing and picking apart given its abundance of clever symbolism and allusions. Director Jordan Peele's next offering, Us, sounds equally promising on paper, being branded as a sort of socio-horror thriller.
The cast certainly is a plus, especially with Lupita N'yongo as the lead. She hasn't seemed to play the lead in a film for a while, but I think given her talent, she could absolutely blow this out of the park and garner some Oscar attention, not unlike the way Daniel Kaluuya did with Get Out.
4. Dumbo
(credit: Disney)
Admittedly, one reason why Dumbo is so high on this list was the absolutely amazing trailer. I loved the trailer, and thought it really grounded Dumbo as an emotionally charged film at its core, which Disney can really deliver with their usually stellar music scores and stunning visuals to complement.
I thought it seemed true to the original, with perhaps a slightly larger arc involving the magnate played by Michael Keaton. I think Dumbo is also digitised beautifully; we get to see nuances in his expression in several close-ups, unlike what we've seen in the trailer for The Lion King so far.
3. Little Women
(credit: cinematicfaves.com)
A large part of my enthusiasm for this film roots from the team behind it, along with the cast. Greta Gerwig directed my favourite film of 2017, so naturally I'm eagerly anticipating her next film offering. Saoirse Ronan, the star of Ladybird returns, alongside a cast including Timothee Chalamet (also in Ladybird), Emma Watson and Meryl Streep. I do hope Gerwig's witty yet touching storytelling shines through as it did in her previous film, and that it doesn't become overpowered by its very talented cast to become an actor's showcase kind of film, which I often like but don't love (eg. August: Osage County).
The subject matter from this film is far from original; Little Women has been adapted for both the small and silver screen multiple times since the release of the novel. Nevertheless, it remains a story that, when told right, can be extremely engaging and touching. If this blows people away, I think it could be a serious contender in next year's Oscars.
2. The Aeronauts
(credit: comingsoon.net)
Eddie Redmayne is one of my favourite actors in the business right now. One key reason is that he's not only comfortable with taking on roles that stray from the Hollywood male lead model — brooding anti-hero, man with world on his shoulders — but absolutely owns them and imbues them with unique personality. For example, as Newt Scamander in the Fantastic Beasts series, he makes the quirky, socially awkward character his own, bringing out his eccentricities in a way that we definitely don't often see in blockbuster male leads.
In The Aeronauts, Redmayne reunites with his Theory of Everything co-star Felicity Jones, who I think is on the brink of getting her first Oscar after her first nomination and her subsequently impressive work.
The only plot synopsis we've been given for this film is as follows:
Pilot Amelia Wren and scientist James Glaisher find themselves in an epic fight for survival while attempting to make discoveries in a hot air balloon.
(credit: Wikipedia)
By and large, it seems to be a historical period piece about aeronaut James Glaisher. Yet its classification as an action-adventure film tells me that this could offer some real thrills, perhaps while retaining a quaint, indie feel, which the setting of a hot air balloon could certainly lend to. The introduction of the fictional character Amelia Wren tells me that this film could really pack an emotional punch. The chemistry between Redmayne and Jones in Theory of Everything was amazing, and I can certainly see it blossoming here too, whether in the form of a friendship or a romance. I think that could really carry the film and make this a wonderful experience, and I eagerly await it.
1. Toy Story 4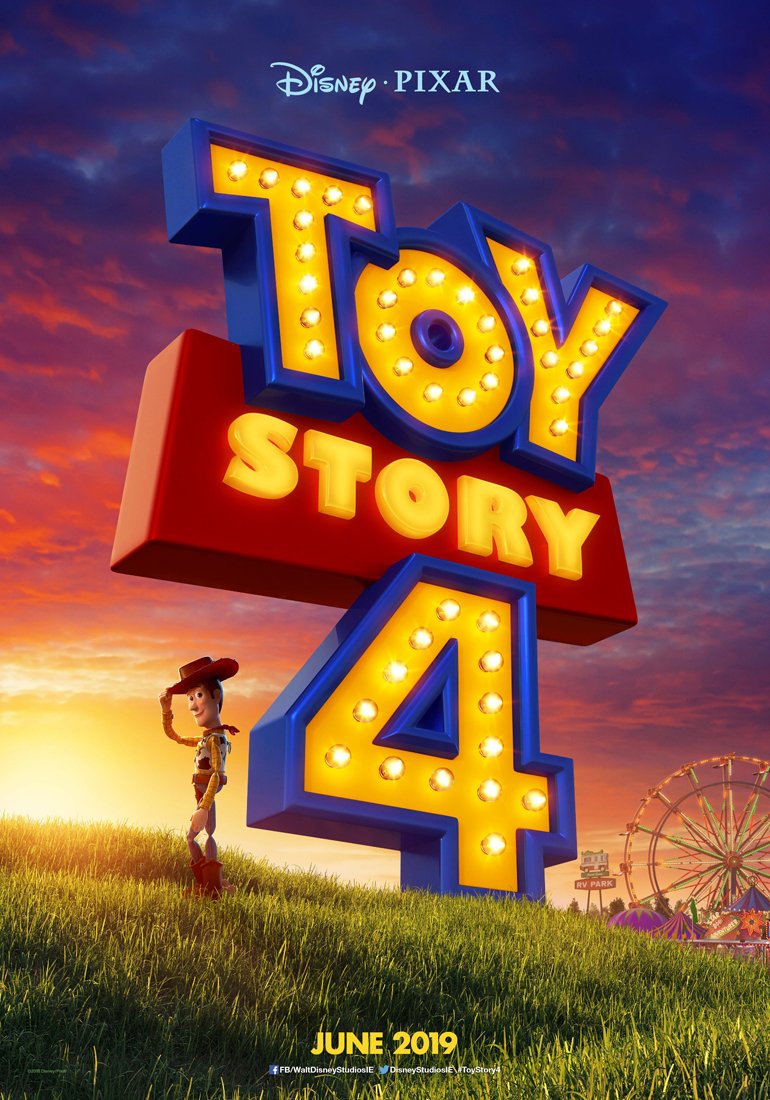 (credit: Pixar, Disney)
This one really doesn't need much explaining. Pixar hardly ever goes wrong, and when they deliver, they really deliver. Perhaps my biggest fear going into this film will be my infinitely raised expectations. The first three films were near perfect, with the third being one of the most emotionally resonant films I've ever seen. With the return of almost all the characters we know, I simply can't wait for their next adventure. I think the two short trailers that were released have been particularly effective in keeping the plot a complete mystery, instead getting us ready to revisit some all-too-familiar toys.
—
Aaaand that wraps up my 11 most anticipated films of 2019! It may seem like treachery that Avengers 4 and Star Wars Episode IX didn't make the list, but after the somewhat lackluster previous films, my anticipation for these movies have kind of fallen. Especially Avengers. I guess we'll have to wait for the trailers. Some other movies I'm really looking forward to but just couldn't fit in include MIB and Artemis Fowl, which look promising too. Let's hope 2019 in film doesn't disappoint!
– Justin